Empower PPM Solution Overview
Background
The Empower PPM solution is a Project Online configuration utilizing the latest technology in PowerApps, Flow and Power BI.
The solution provides a client with an environment which is deployed to be operational from day one. Empower PPM is preconfigured with a range of core configuration that enables a client to achieve traction and align with industry best practices. The Empower PPM solution also includes pre-defined reports for Project Intake and Prioritization, Resource Capacity and Demand Management, Budget and Cost Tracking, Project Planning and Collaboration, Project Status and Portfolio Reporting, and PMO Governance.
Empower PPM solution is beneficial to those clients who do not have a PPM solution in place and need to rapidly establish a PPM Tool, and those clients who wish to leverage the Empower PPM as a starter to then plan further enhancements.
The Empower PPM solution is aligned with the Project Management Institute's (PMI) practice standards for Work Breakdown Structures (WBS) and Project Scheduling. In addition, configuration of the Empower PPM is based on proven elements from successful PPM deployments.
Empower PPM enables the client to reap the benefits other successful PPM deployments, in alignment with PMI standards, to get up to speed quickly with the program management tools and integrate them into the client's program management organization.
Solution Overview
The following section describes the high-level architecture of the solution components and how it will fit in a customer tenant.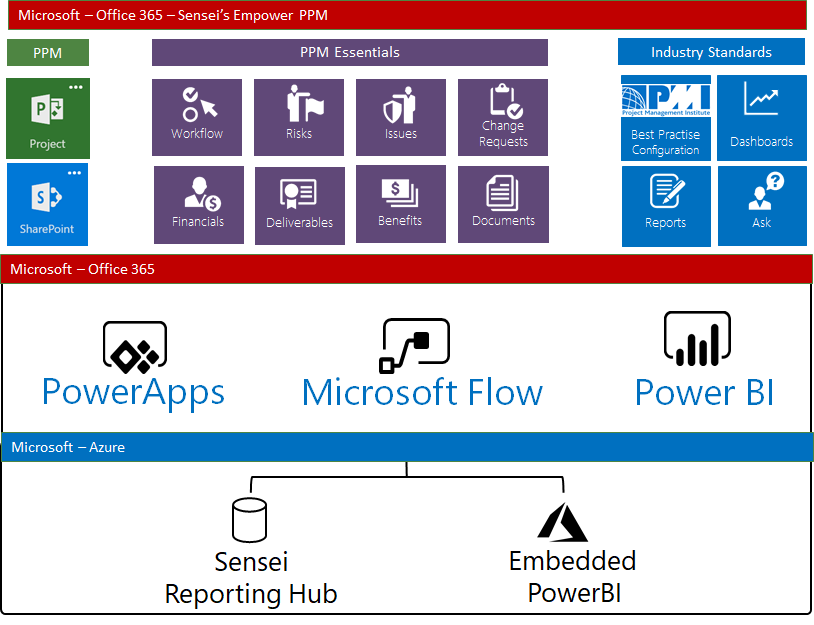 Empower PPM is based on Microsoft Project Online and SharePoint technology. It introduces improvements in user experience and interface in terms of how the project manager and team members interact with the system. All the collaboration registers including Risks, Issue, Change Requests and Benefits are having user interface based on the latest Microsoft technology, PowerApps. Canvas Apps (PowerApps) are part of the solution that provides a wrapper around SharePoint lists of these collaboration registers that are not centrally presents replacing the SharePoint subsites (project sites).
Furthermore, Microsoft Flow is the automation tool used in the solution for different process and workflows. Project life cycle management workflow and the Change Requests approval workflow are using MS Flow as well. Microsoft Power BI is the technology of choice for reporting needs.
Finally, all reports including Project level and Portfolio reports are built using Power BI. The centralized data repository for the entire data model in the Empower solution is eventually reporting hub and provides the services for integration to import and export the data from the PPM system.
High-Level Components Architecture
Empower PPM is an evolution of Project Online deployment to leverage advances in the Online Services available to most existing Office 365 subscribers.
Complimentary Sensei components are deployed with Project Online inside Office 365 to enhance the functionality available and promote best practices.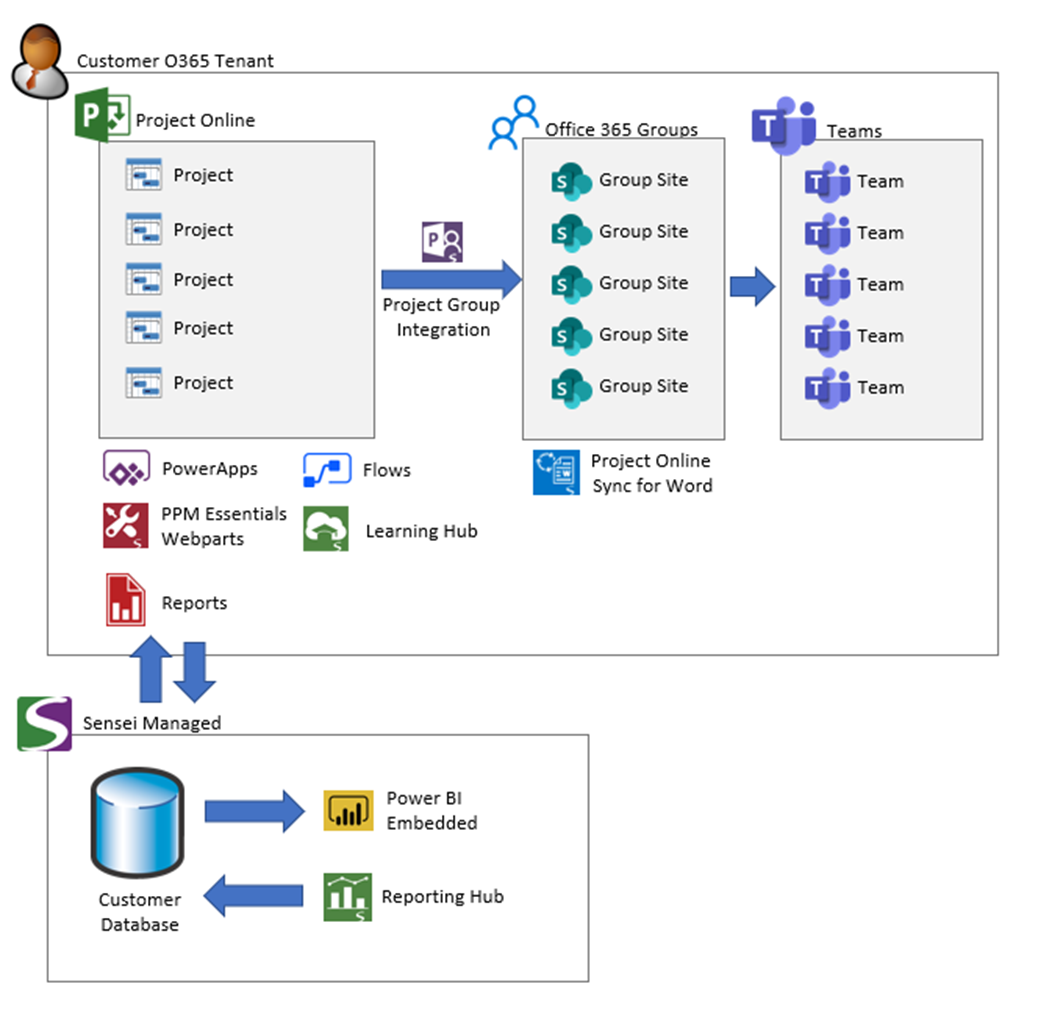 Office365 Groups/Teams
In Addition, Sensei Components includes Project Online Configuration for Empower PPM, based on best practices for Project Online configuration. Project Groups Integration is used to provision O365 Groups and Teams.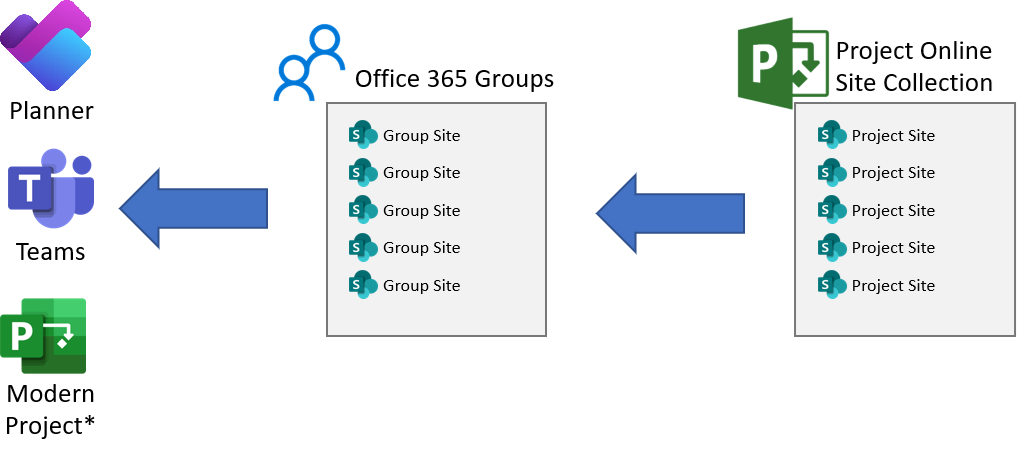 Using Office 365 Group Sites provides advantages over Project Sites:
Modern Site Experience.

Collaborate with a wider audience. Group Sites can be easily shared with other internal users and External Guests from outside your organisation.

Avoid the SharePoint 2,000 web site collection limitation.

Teams integration.

Planner integration.
Office 365 groups are created automatically by the solution on creation of projects. The group names are based on the project names. The ownership and membership of groups can be managed by project managers.
Additional Components of Empower PPM
Furthermore, Empower PPM is enabled with:
Sensei Project Group Integration providing customers with the ability to utilise Office 365 Group Sites in place of Project Sites that are usually provisioned as sub-webs in the Project Online Site collection.

Power Apps and Flows Various PowerApps for project related information are deployed into the customer environment to allow an intuitive user experience when managing and updating Project related information, workflows and financials.

PPM Essentials as a suite of webparts to improve user experience inside Project Online.

Learning Hub enabling users to quickly learn about Microsoft Project and Project Online features, functions and best practices. It is available directly inside Project Web App from the Knowledge Centre.

Reports provided via the Reporting Hub and Embedded Power BI Modules.

Project Online Sync for Word is utilised in the O365 Group Sites for acquiring and synchronising Project related information into Word documents.
Solution Technology Footprint
Empower PPM delivers its intuitive functionalities by leveraging the customer tenant to host the components in the solution. PowerApps, Flows and end to end configuration will be delivered into the customer environment. Projects, Office 365 Groups and Teams will be created in the customer environment based (triggered) on the user interaction with the system.
The following PowerApps are part of the solution that will be deployed in the customer environment.
Sensei Project Ideas.

Sensei Workflow.

Sensei Project Risks.

Sensei Project Issues.

Sensei Project Deliverables.

Sensei Project Change Requests.

Sensei Project Progress.

Sensei Benefits Management.

Sensei Financials.

Sensei My Risks and Issues.
Solution Technology Fundamentals
Empower PPM delivers its seamless project register capabilities by leveraging the end to end capabilities in Microsoft PowerApps and Microsoft Flow.
The following is an example of how the above technology stack utilises SharePoint features to create, maintain and provide visibility on data via Power Bi Reporting functionality.