System Status
The Reporting Hub status is accessible on the Project Online PWA Settings (aka Server Settings) page.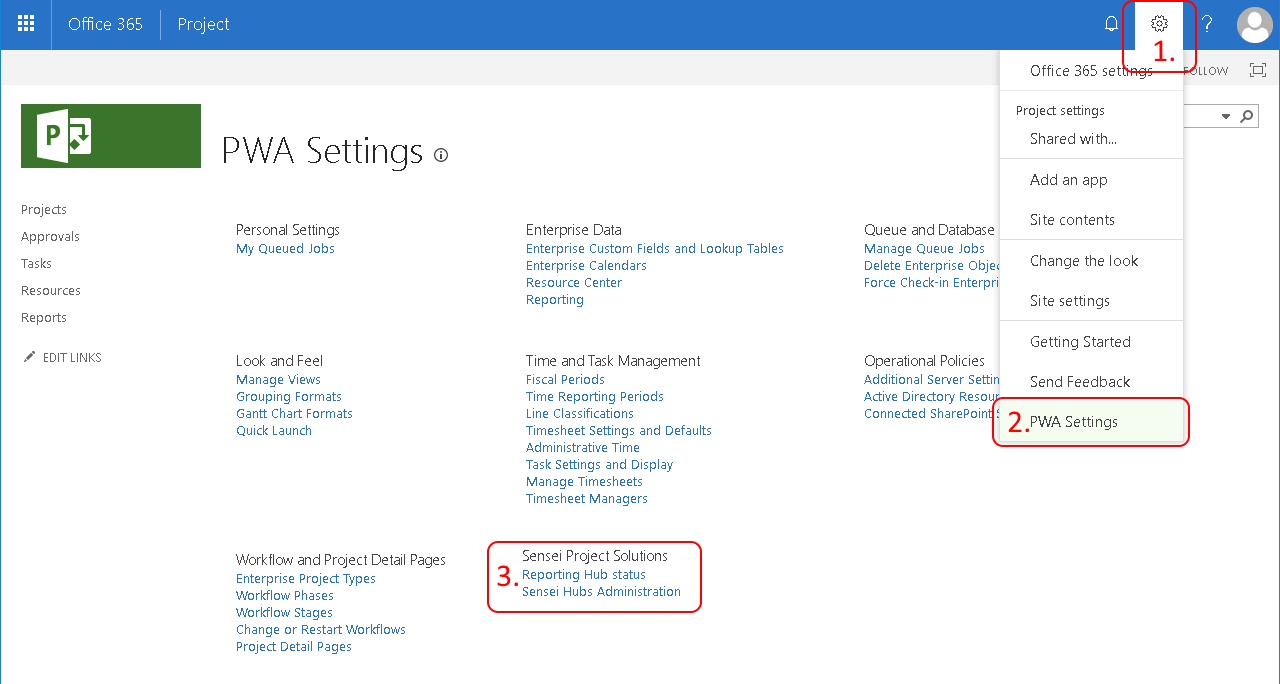 Click the Settings Gear in the upper right hand corner to open the settings menu.
Click PWA Settings in the settings menu.
Locate Sensei section on the PWA Settings page.
Click Reporting Hub status to open a dialog that displays the current status of this Reporting Hub instance.

Health
Status of the Reporting Hub instance.
Service Checked
Description
Overall status
Summary health indicator.
Daily maintenance
Every night a validation of the Reporting Hub instance, Project Online settings and all connections is performed.
Daily full sync
After the daily maintenance the Reporting Hub full sync is started to ensure all data is up-to-date.
Daily index optimize
After the daily full sync the Reporting Hub database is optimized for reporting usage.
Hourly maintenance
Every hour the Reporting Hub validates the integrity of the Reporting Hub database.
Also Project Online engagement data is synchronized.
Each service checked can have one of the following statuses:
| Status | Description |
| --- | --- |
| | Everything is awesome. |
| | A minor issue occured during the last run. If the issue persists you can contact Sensei Support. |
| | The last job failed. |
| | The job is being queued and will soon start processing. |
| | The job is currently being processed. |
Note
Hover over the status indicator to get additional details.
Activated Features
Displays a list of all Sensei products activated in this Project Web App site collection.
Sensei Hub Administration
Click Sensei Hub Administration to open the Sensei Hub associated with this environment.